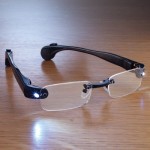 Ever have that "duh..that's so easy, why didn't I think of that" moments? Here are three more easy solutions to every day problems!
"Strapdowns" – The easiest way to eliminate "pant bunch" in your boots and they work on all pant styles.Strapdowns are adjustable clear bands that will anchor your pants and keep everything in place. One size fits all.
2. "IS A BELT " is more than a belt! It takes inches off your waist and eliminates bulkiness under your sweaters or tunics.
Discreet and comfortable, the amazing fashion accessory "IsABelt" is a virtually invisible belt that's ideal when you need a belt, but a traditional one just won't work with your outfit. Made to fit women of all ages, shapes and sizes, this ultra thin and lightweight 1/2 inch wide belt is fully adjustable and is designed to keep pants from slipping. It comes in clear or black.
3. DO YOU WEAR READERS?
And finally, the answer for our tired eyes! Would you like to read in bed without the bedside lamp on? Do you need a little extra assistance to read the menu in a dark restaurant?
Well I have the answer for you. It's a great idea for anyone who wears reading glasses. These LED glasses  have super bright white LED lights built into each corner of the lens frame. They are available in 1.5,2.0,and 2.5 diopter. A bright idea, right?