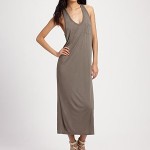 While snow continues to fall all over the country and here in New York, it is still not too early to start thinking about spring. .
You want to start adding a few "spring trend" pieces into your existing wardrobe with a few lighter fabrics and some color.
Look for a longer length dress in jersey knit. It will be the perfect early spring dress. Wear a long sleeve tee under it on a cooler days and on warmer days wear it solo.
Pick up a v neck cashmere sweater in a color. Brights are back this spring, so go for a bold green, blue,orange or red sweater to brighten up your jeans or that straight skirt in your closet.
A skirt with some great patterned or textured tights — not heavy opaque — gives a lighter look to some fall pieces.
Add an ankle boot or a peek-a bootie  instead of your high boots.
Add a colored or neutral handbag in taupe or grey , or go bold with orange…it is a hot color this spring.
Look for a lightweight trench coat. It is a "must have "  piece.
Stripes are big, so look for them in tops and dresses.