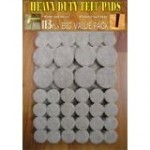 Solutions for your fashion dilemmas. Audrey Mansfield has tips to protect your leather, keep your shoes intact and stay warm!
1. Is your leather stretched out? Just pop it in a Ziploc bag and place it in the freezer over night or for 24 hours.
2. If your shoes and boots have started to curve upward, return them to their original shape by securing them with tissue paper and rubber bands to a heavy weighted book (such as a dictionary).
Stuff your boot or shoe with tissue paper.
Place the boot or shoe on top of a heavy book,fold and place a piece of tissue paper over the shoe at the toe .
Using a strong thick rubber band wrap the band around the tissue paper at the toe.
Leave the shoe or boot attached to the book for multiple days.
3. If your lingerie and other dedicates keep slipping off hangers, just stick a furniture scratch protector pads to the top of a wood hanger and the clothing stays on. HONEST!
4. YumYum cashmere scarves are a simple, no-fuss alternative to bulky scarves with an easy magnet closure. when you don't want to carry a heavy load these are easy and light to just pop in your handbag.