Purse Management,Makeup,Tips and Tricks
Audrey suggests the following items in your purse:
1. Compact make up bag
2. Ladies emergency kit
3. Child's age appropriate emergency kit (if needed)
4. Medical Emergency Contact card
5. Wallet & Keys in a safely secured area
6. cell / blackberry / treo or other
7. sunglasses / reading glasses
On your medical emergency card you should include the following:
Name, address and telephone number
Emergency contact person's telephone number
Insurance number and information
Doctors name
Allergies
Blood type
Donor information
- Note you may want to highlight certain information such as allergies and emergency contact information so it is easy to read.
An Emergency Woman's kit should include:
Aspirin / Tylenol/other
eye drops
Band-Aids x2
feminine products
tissues
mints
pen note paper
tooth brush and tooth paste
hair spray
deodorant
sewing kit
antibacterial wipes
Makeup Bag items should include:
powder
lipstick / gloss / lip balm
foundation
mascara
eyeshadow quad
eyeliner pencil
concealer
blush
travel brushes
emery board
travel size perfume
small compact or mirror
comb or small hair brush
Don't you HATE it when your favorite eyeshadows fall to pieces?  Don't toss it! try this instead.
You will need  tissues and a small amount of lotion.
Place a tiny amount of lotion on to a tissue.
Using your finger tip, press the lotion on the powder eye shadow until the powder goes back to it's original state.
Problem solved!
Is Your Favorite Blush Busted?
You'll need Vaseline and two clean, small jars (look at The Container Store).
Place the broken blush in to a bowl.
Crush the pieces into a powder.
Place ½ of the powder into one jar.
Start adding the Vaseline small amounts and mix until you reach the consistence of a cream blush or lip-gloss.
Place the other ½ of the crushed blush into the other jar.
You now have a cream blush (or lip gloss!) lip gloss and a powder blush with nothing wasted.
Keeping it Clean. How to Sanitize your Eyeshadows.
Put 99% alcohol (denatured alcohol, rubbing alcohol)  into in a fine mist atomizer.
Lightly Spray the alcohol once over the powder eye shadow palette or single eyeshadow.
Let it dry and your products are sanitized.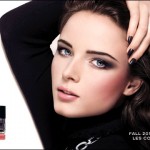 Guest Blogger -Rosalina Da Silva- Visit her website http://www.amorebeautifulmakeup.com/
The Fall of 2010  fashion trends have been set on the runways of the world…This year, as always, there were some amazing makeup looks .
However, I must say there's nothing unexpected or unusual , so it means that we can go into our makeup draw and pick up similar colours from past  seasons.  However  the fall season gives us a sense of style with the clothes, colors and textures, the hair and makeup after a very relaxed summer fashion.
I spent a few months overseas and up on my return I was very excited to tell my friends of the trends I saw specially in Japan… I loved  the fact that the  "Blush" was bold and obvious , not like in a "80s" kind of way…much more centered  and round on the cheeks.
On that note the Fall style of make up for most women…  A few suggestions and tips,
After the summer your skin is  naturally dehydrated, so make sure that  your "skin care regime"  is  appropriate. Serums, nourishing masques, rich night cream, and always an eye cream.
Before  designing your own fall look, make sure that your skin is glowing,
1) Sunscreen
2) Primer…Mac , SmashBox, Laura Mercier
3) Lip balm or plumper if you need to use it…Model Inc…
4) I  Love to use a liquid bronzer on  the cheeks  for that "natural" radiant look to keep a little of summer look.  Armani my favourite
5) Use either a liquid foundation or for a light coverage a tinted moisturizer. Mac my favourite a very close second Laura Mercier
6) Concealer  can be used under or over the foundation…I prefer over as it minimises the amount I need. Also if you are very dark  under the eyes and have a highly pigmented Concealer mix it with a dab of eye cream so it goes on more smoothly.  Mac, Amazing Concealer, Laura Mercier
7) On eye lids brush some powder to make sure it's well dry before the eye shadow.

From here on start with the new colours for the season…Gold's. Bronzes, Chocolates, mauve or  even  a Bottle or Moss Green. All slightly frosted….sheen, sheen
9) Your cheeks should be radiant as you've used the  liquid bronzer under  I choose a  cream Blush from either Mac or Bobby Brown just for a more "rosy healthy" glow
10) Lips : will depend if you want to be bold and choose the latest's reds or stay soft with the natural bronzers ,and pink  hues….Make sure that your lips are always moist with a slight sheen….a very youthful look.
11) If you wish to apply false lashes do that last…
12) Here are some more options ….
The  favourite  smoky eye is back and better than ever.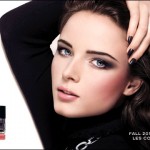 Red lips, they are always on the fall runways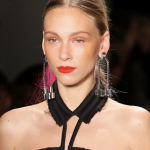 Gold eye shadow t try on a few and find the shade you feel the most comfortable in. Pair it with gold and bronze eye shadows and you will be ready for a night on the town.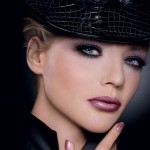 It's Cat Attack 3.0, aka our third story in the past two weeks that focuses on feline fashion. For fall, the makeup brand is introducing M·A·C Fabulous Felines, with three new collections inspired by the colors and textures of the world's über-perfect pedigrees. To mirror the seductive shades of the fall '10 runways, they're offering up the chocolate-toned Burmese, the wild and sleek ginger Ocicat, and the plush and privileged sable Russian Blue. Plus, they're letting you create a purr-fect cat-eye with the new Superslick Liquid Eye Liner in six new colors ranging from Defiantly Feline to golden Pure Show. So, if you want to mix-and-match with your own pet, or just want to serve as cat-nip, we suggest getting in on the fur-ocious trend before it's too late—you don't want to look like an alley cat, do you?
Fendi autumn/winter 2010-11
Matte Skin, Luminous Finish
Beautifully natural-looking skin was the big look for autumn/winter. For those not born with a fresh-faced glow, this look is all about the prep work. Prime skin with a moisturising serum or a few drops of MAC's Care Blend Essential Oils before applying your foundation; then dust with pressed powder for a matte yet silky finish. NEXT TREND >>
Dior women are not shy, they're modern and daring," says John Galliano. The Dior fall color collection pays tribute to this idea of unabashed femininity with shades of sensual mauve, deep purple and smoky charcoal and grey tones. The eyes are the focal point of the look: endless and full lashes, mysterious, smoky lids and soft, pink hues for the lips.
Marchesa for Le Metier de Beaute Collection for Fall 2010
"The Collection takes the unparalleled textures and formulas Le Métier de Beauté is known for and transfixes them with the essence of Marchesa," says Joanna Vorachek Austin, President of Le Métier de Beauté. "From the sleek packaging and the innovative formulas to the flawless application, the Marchesa for Le Métier de Beauté collaboration brings the best of both brands to the forefront of luxury."
Ultra sophisticated shades Khaki Rose, Khaki Brun and Khaki Vert can be worn alone or combined for an urban chic camouflage effect. Available  on September 10th.
Perfectly mirroring the rich shades and slinky sophisticated looks we saw on the Fall 2010 runways.
There's the pampered creature of luxury, the chocolate-hued Burmese, the wild and sleek ginger Ocicat, and the plush and privileged sable Russian Blue. It's everything compelling we loved on the catwalk…chic, couture-inspired and cunningly compulsory!
I'm totally coveting the look at Brian Reyes: Bobbi Brown makeup artist Wendy Rowe paired scarlet-copper lids ( Shimmer Wash Eye Shadow in Eggplant) with a pale blue, lined undereye ( Long-Wear Cream Shadow in Aqua) for an earthy yet urban effect. —Maura Lynch, ELLE Associate Beauty Editor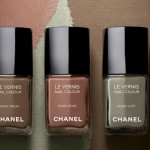 While we're eagerly anticipating the slew of super dark nail polish shades that are hitting stores later this year, in the meantime we've been looking for the perfect transitional color. The conditions were elaborate in scope and limiting in nature, as..
_________________________________________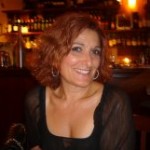 Rosalina Da Silva- Visit her website http://www.amorebeautifulmakeup.com/
I've been working as a professional make-up artist since the 80″s. I've worked on hundreds of faces on dozens of movies. My work has taken me all over the world. From "The Unbearable lightness of Being" in Paris to Mosquito Coast in Belize, Watchmen, Sucker Punch and Tron In Vancouver where I'm now based.I feel incredibly lucky to have been given the task of creating and designing Make-up looks for these productions. On my time off I continue my studies,research, workshops, as well as art classes…I'm very passionate about what I do and feel very blessed.
Video KGO TV___________________________________________________________________
Makeup brushes come in animal hair or with synthetic bristles like nylon or Taklon.  Prices will vary a lot depending on what material is used.
Here are  Audrey's "Must Have" picks.
Foundation Brush with Taklon Bristles
For a flawless finish, a Taklon Foundation Brush will give you a perfectly blended look.
Eyeliner Brush
The eyeliner brush can be used with cake, cream, powder and liquid liner to create a fine line close to your eyelashes. I really love a bent eyeliner brush with this brush you are able to apply your eyeliner with your eye open and this makes for a very straight line.
Lipstick Brush
Using a lip brush allows you to achieve a perfect lip line and you will find your lipstick will stay on longer.
Blush Brush
This brush should be soft and have fine bristles for an even and soft application.
Defining Eye Shadow Brush
This brush is designed for precision color placement on your eyelid crease and for smudging and softening liner.
Large Fluff Brush
This brush is used for applying your eye shadow base.
Angled Brush
This brush is used to define your brows and for your under eye line [ under your lower lashes].
Spooley Brush
This brush is a great tool for brushing your eyebrows into place.
Concealer Brush
The concealed brush is used under your eye area around the nose and mouth and for camouflaging any blemishes.
Powder Brush
Find a flat powder brush it is so much better for placement and you will use less product than if you use the dome powder brush.
Taking care of makeup brushes.
Spray brush cleaner on a tissue and wipe your brushes after use, or use rubbing alcohol to sterilize your brushes in the same way. You can also use eye makeup remover on your synthetic brushes.
Wash your brushes weekly in baby shampoo and lay them flat to dry on paper towels.
SEPHORA COLLECTION Perfect Ten Brush Set ($150 Value) Perfect Ten Brush Set

Japonesque Kimono Brush Set