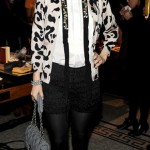 Handbags can say a lot about your personality. They can also be vast voids that  devour your cell phone and keys.
HOW TO RECOGNIZE A GOOD HANDBAG
1.Check out the lining of the bag before you make your purchase. Leather and suede linings are signs of a more expensive handbag. Make sure that no matter what the lining fabric is, that  it lays flat inside the handbag and that the fabric is not to thin so that it doesn't tear easily.
2.Check the stitching inside and out and make sure the stitch lines are straight and have no loose threads.
3.Check the zipper on the handbag make sure it glides easily and that it is long enough to get your hands and things into.
4.The handles of a handbag should be sewn in  — not glued —  make sure that the stitching goes all around the strap base.
5.Check the leather and make sure the color won't run. This is a common problem on inexpensive handbags.
Basic Handbag Knowledge
A clutch bag is compact in size and should fit snugly under your arm.
Statement hardware can be functional and add a decorative edge to an otherwise plain bag.
A good leather handbag should have some softness in the leather and have the ability to expand.
Chic handbags give any outfit an instant upscale luxury look. Evening bags can be plain , or they can be embellished with rhinestones, pearls  and all kinds of wonderful and unusual embellishments.
Patent leather handbags will add that bit of extra sheen you need in an outfit. Patent leather looks great whether you have spent $2,000.00 or $175.00.
Everyone needs that one black handbag that goes with everything, it can be dressed up or down and never shows dirt!
If you are working with a limited budget you will need four to six handbags as wardrobe staples:
HOW TO CLEAN YOUR INVESTMENT
1.Empty out the contents at least once a month. Using a clothes brush, sweep away all the remaining "stuff".  Repair any rips in the lining.
2.Use a leather cleaner and conditioner that will remove dirt and smears and remoisutrize the leather to keep it soft and supple.  Use cleaners likes Lexol-ph leather cleaner, Meltonian, Guardsman and saddle soaps. Don't use products that have heavy waxes, alcohol, silicone or turpentine. Fats and oils can darken the skins.
3.Reptile skins need to be conditioned at least once a month as they can dry out.
4.If your hardware is scratched try using a small amount of tarnish remover.
5. If there is a zipper run a bit of bee's wax along the zipper and wipe it off.