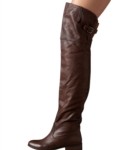 Boots are my favorite footwear! High or low heels, dress or biker, they are an absolute MUST during colder weather. Boots can be investment pieces and can last several seasons if you take care of them.
Waterproofing your boots is a must.  You can have them professional waterproofed or you can do it yourself. Boots should be waxed or oiled to form a protective layer over the surface of the leather. The product you use depends on the material in your boot.
If your boots get wet, stuff them with newspaper or use a boot tree and let the boots air dry naturally. You don't have to have shoe trees, rolled up magazines or wine bottles will also keep your boots in an upright position.
DON'T USE artificial heat to dry your boots.
Store your boots in felt bags …never in plastic. Here are some of my favorite styles..Happy Shopping!!!!!!!!