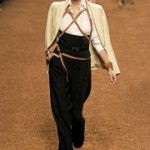 A belt is an easy "statement maker" that can take you from casual to sexy! Belts can  give a straight figure curves,a short waist appear longer and a long waist appear shorter .The right belt can  take a plain outfit and make it  fabulous or give an old outfit a totally new look.
Find one black and one brown belt that fit into your jean loops and you will be able to wear it with everything in your closet. Look for hardware on the buckle that is timeless yet makes a statement. A great belt will turn out to be one of your best accessories in your wardrobe and will complete an outfit by making you look more polished.
Skinny belt ranges from ¼ to 1-inch wide. They work well for a preppy look with a sweater and skirt, but can also work with any jeans. Skinny belts work well if you are short-waisted.
Medium width belts range from 1 to 2 inches and will look great over a suit jacket, coat or long sweater. Medium width belts alos look great with jeans and work well whether you are short or long-waisted.  A medium width belt worn low on your hip can make a woman with a tummy look slim. A belt can contain volume on an outfit and give you that paper bag waist look. If you are going to buy only one style, the medium width belt is it!
Wide belts range from 2 inches on up.   Wide belts can add immediate sex appeal and will give you a short corseted look that can sex up any print or solid dress.
STYLE TIPS :
Wide belt range from 2 inches on up worn on a print or solid dress can add immediate sex appeal and give a short corset look and draws your eye to it. Double 2 thinner belts to give a wide belt look.
Keep the proportion of the belt to the size with your body type. WARNING! Be careful of where the belt hits you. Large breasts  "sitting on top" of the belt is NOT an acceptable look.
Wear your belt over
A tunic
Jeans
Over a cardigan
Over a coat
Over a jacket
Over a voluminous dress or top
At the waist of a full skirt
Under the bust for an empire look
Over a blouse
Put on a glitzy belt to take your day look into the evening.