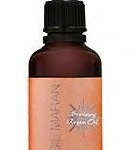 SPLURGE   VS   STEAL
Looking to highlight toned legs? Need to add a little shimmer to your shoulders in your new strapless dress?  A bronzing oil is a great, subtle touch in the summer for healthy, radiant skin. Both of these products give a subtle bronze glow and fragrant summer scent, but one costs $52!
Don't splurge on expensive, seasonal oil.  Australian Gold's Intensifier Bronzing Dry Oil Spray is just $7.99and packs a punch with natural oils, a hint of bronze glow, and their signature coconut fragrance.
Available this Spring at Drugstores and australiangold.com