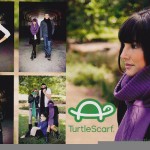 Hello everyone! I'm Erica and I am thrilled to be talking fashion
on my mother's blog! Fashion is a language moms and daughters can
share. In fact, my mom and I love to do television fashion segments
together - and I hope we'll be able to share one with you in the future.
With Christmas approaching I am getting in the spirit of scarf
shopping! One of my favorite gifts to give is the turtle scarf.
I discovered the turtle scarf while dancing in the "A Chorus Line"
tour. As an actor I am always encounteringamazing and creative people. 
This designer/ performer has really hit the nail on the head. 
Liza Domingo introduced the line with herhusband Randy in 2006. 
This functional and comfortable scarf is a perfect accessory for men,
women and children. The key is that it is a trendy and practical
design containing a neck warmer, scarf and hoodie in one! 
The various styles include striped, cable knit,argyle, button up,
two tailed, and there's even a a style with apocket for your Ipod! 
Styles can also come with or without a hoodie. A new addition to
the line is the forever scarf which can be worn as acowel neck or be
pulled down to wear as a sweater.  
The turtle scarf is an adorable piece, and it is one of my
favorite accessories out there for the holiday season. So if you are
doing some last minuteChristmas shopping or just need to keep warm
for the winter months go to www.turtlescarf.com.