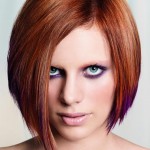 Your hair can either be your "crowning glory" or simply, a mess. Your lifestyle plays a huge part in determining whether you can handle a high-maintenance "do" or whether you need low maintenance.
Low maintenance styles are generally those that are long layered haircut s that will grow out without much maintenance . You can often go 6-8 weeks between cuts. For many women, mid-length hair styles are a good, stylish option. Shoulder length hair styles are low maintenance but they also prove very versatile.
TIP:  If you like bangs, opt for a side-swept style.
Higher maintenance styles such as short, short cuts and "bobs"  need  4 to 6 week  salon visits. Ask your stylist to help you decide if your bob should be soft or blunt. If you want bangs, remember that full bangs across the forehead will need frequent, regular trims.
TIPS:
1. This spring, buns  and pony tails go low and make a shift to the nape of the neck.
2. 70s fringe and full front bangs are very of-the-moment.  ( are you saying too trendy?)))
3. Extreme side parts no matter what length of hair you have.  (((Are you saying do or do not do extreme parts or are they in style)
4.  Check out a layered shirt hairstyle. They are  very elegant and suit almost everyone . They're easy to care for so if you have a busy lifestyle and want something totally different this might be for you.
5.  The inverted bob is definitely back and staying with us.